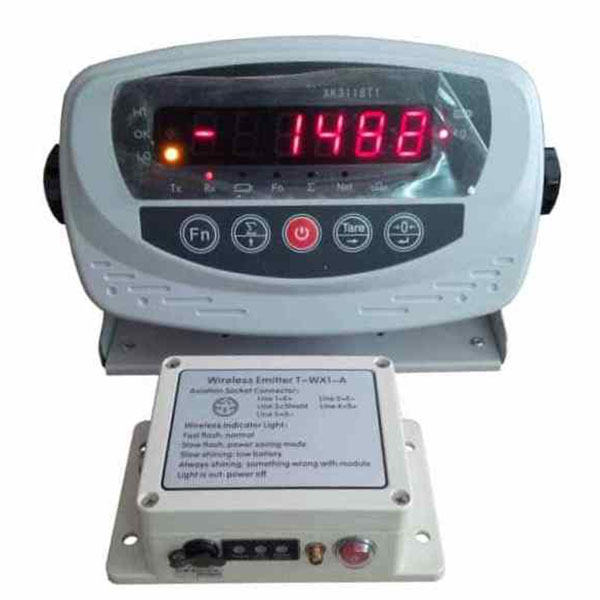 Wireless weighing measuring indicator KELI XK3118 T1-F(WX)
Description
XK3118T1-F (WX) transmits weighing results from scales to indicator as wireless digital signal under wireless technology 2.4 G. Indicator uses highly accurate microprocessor with interference elimination. It can be used for platform scales, crane scales, storehouse scales in cases when it is impossible to connect indicator by means of cable.
Wireless weighing system includes wireless indicator XK3118T1-F (WX) and wireless transmitter T-WX1 which operate only jointly.
Characteristics and basic functions:
Power saving mode and auto power-off function;
Transmission distance is 50 m in open space;
Support of wireless and wired modes to connect to joint box;
Indicator XK3118T1-F (WX) has built-in power supply;
Action period of one recharge is about 20 hours.
Technical characteristics of indicator XK3118T1-F(WX)
| | |
| --- | --- |
| Accuracy class | III, n=3000 |
| A/D conversion mode: | Σ – Δ, 24бит |
| Minimum input voltage: | ≥1.5uV/e |
| Error distribution coefficient: | pi=0.5 |
| Scale interval: | 1.2.5.10.20.50.100 (option) |
| Load cell power: | DC 5V, with connection of 1-4 load cells of 350 Ω |
| Signal input range: | -16mV~18mV |
| Load cell connection: | 4, 6 wiring (with autoequalization) |
| FM: | GFSK |
| Operating frequency: | 2.4GHz |
| Operating channel: | 16 |
| Operating channel: | 50 m in open space |
| Power supply T1-F1 (WX): | Built-in transformer АС 220V (110V option) |
| Power supply T1-F2 (WX): | Built-in power supply АС 110-220V |
| Reserve power: | Built-in battery 6V/4Ah |
| Operating temperature: | -10~ +40ºС, humidity ≤85% (without condensate) |
| Storage temperature: | -20~+60ºС, humidity ≤95% (without condensate) |
| Indicator weight: | about 2 kg |
Technical characteristics T-WX1
| | |
| --- | --- |
| Conversion mode: | ∑ – ∆, 10 times/s |
| Minimum input voltage: | ≥1.5uV/e (wired mode) |
| ≥1.5uV/e (wired mode) | DC 5V, with connection of 1-4 load cells of 350 Ω |
| Load cell connection: | 4 wiring |
| FM: | GFSK |
| Operating frequency: | 2.4GHz |
| Operating channel: | 16 |
| Operating channel: | 50 m in open space |
| Charger: | Input 100-220V, output 6V/1A |
| Operating temperature: | -10~ +40ºС, humidity ≤85% (without condensate) |
| Storage temperature: | -20~+60ºС , humidity ≤95% (without condensate) |
| Dimension: | 153х55х90mm (Length х Width х Height) |
| Indicator weight: | about 0.35 kg |