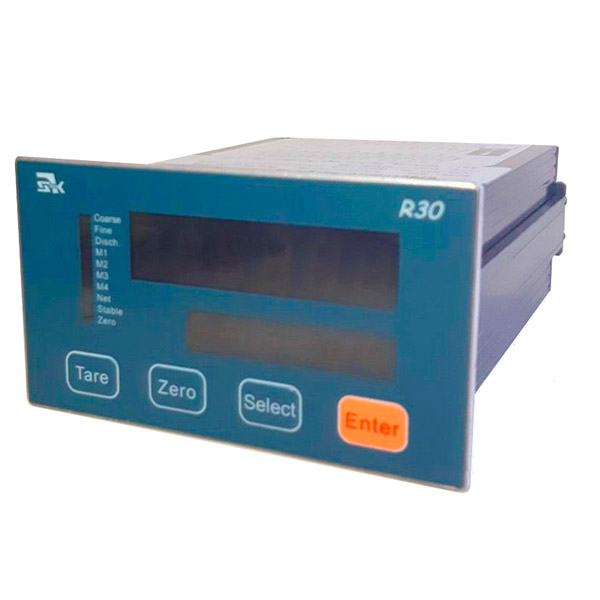 Weighing batching controller R30.20
Controller R30.20 is specially designed for batching of materials and for industrial inspection. Controller is widely applied in packing equipment, in the systems of reservoirs fill-up, in the systems of bulk products batching as well as for batching in different branches of industry, such as metallurgical, chemical, food industries and others.
Main features:
panel mounting and compact housing;
possibility of batching in mixed and cyclical mode;
two speeds of batching;
independent 4 – component batching;
10 recipes saving;
automatic spillage correction;
automatic accumulation and analysis of errors;
12 relay outputs;
4 relay inputs;
connection standard RS232/RS485;
support Modbus RTU;
part manual mode, with mode of combine loading of material;
in case of emergency shutoff the indicator continues a batching process after restart.
Engineering data
Analog – digital convertor
Highly accurate, 24 bites, Σ- Δ convertor, Sampling rate 100 Hz
Housing
Front panel SS304, IP 65, housing aluminum IP 42
Operating mode
Operating mode 1-4 component batching; cyclic batching, accumulative batching;
Number of connecting load cells
Maximum 6 analogue load cells 350Ω
Input range
-20mV~20mV
Input sensitivity
Over 1,5uV/e
Display
Basic: 6 red LED segments and auxiliary: 6 green LED segments.
10 LED status indicators.
Serial connection port
Separate port RS- 232/RS- 485 (built-in switcher)
Communication protocol
Consistent format, type-out, MODBUS-RTU
Relay mode
4 input.

12 output, maximum load 30 VDC/200 mА.
Recipes number
10
Dimension (height х width х length)
104х59х130 mm
Mounting hole (height х width):
93 х 46 mm
Power supply:
Power supply: 24 V DC, consumption < 30 W