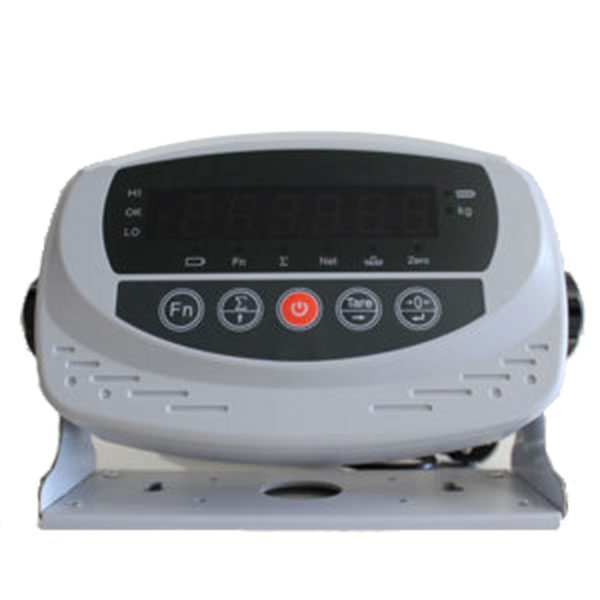 Platform scales indicator ХК3118Т1-D
Application
ХК3118Т1-D weighing indicator series adapts to high precision Σ-Δ AD data conversion chip, stainless steel housing and plastic base, original contour, wide range of voltage switch power supply, AC and DC power supply, suitable for platform scales, floor scales and other static weighing systems with 1-6 pieces of analog load cells.
ХК3118Т1 indicator series has other housing and transformer, built-in switch power, built-in adaptor for selection.
Data and description:
Accuracy class: III, n=3000; approved with OIML R76;
СЕ Approval;
High precision of AD conversion, accuracy 1/30000;
20 times of ISN display, recover weight coefficients to study and analyze error;
Power on auto zero-set range, manual zero-set range can be set separately, zero tracing range can be set;
Random recharging by indicator with low power indication and protective device;
Adopted floating charging circuit, it can prolong accumulator life time;
Power-saving mode and auto power-off function;
Animal weighing function, accumulation function, counting function is optional;
High and low limit of weight indication;
RS232 communication interface, multi-communication formats;
Apply with AMC preventive measurement.
Technical data:
| | |
| --- | --- |
| Accuracy class: | III, n = 3000 |
| A/D conversion mode: | Σ – Δ, 24 bit |
| Minimum input voltage for control of scales interval: | >=1.5uV/e |
| Error distribution coefficient: | pi=0.5 |
| Scale division: | 1.2.5.10.20.50.100 (optional) |
| Load cell supply: | DC 50V, connection of 1-6 pieces of 350 Ω of analogue load cells |
| Load cell connection mode: | 6 wires (long wire of automatic compensation) |
| Display: | 6 bits LED,10 indication signs |
| Power supply: | |
| T1-D1 (built-in transformer): | AC 220V,50Hz (110V can be custom-made) |
| T1-D2 (built-in switching power): | AC 110-220V,50Hz |
| T1-D3 (built-in adaptor): | AC 220V/110V, DC output 10.50V |
| Built-in 6V/4AH free maintenance lead acid battery (free recharge) | |
| Operating temperature: | 0~ +40ºС, humidity <=85% (Relative humidity) |
| Storage temperature: | -20~+60ºС , humidity <=95% (Relative humidity) |
| Indicator dimension: | 280х170х98mm (Length х Width х Height) |
| Indicator weight: | about 1.8 kg |