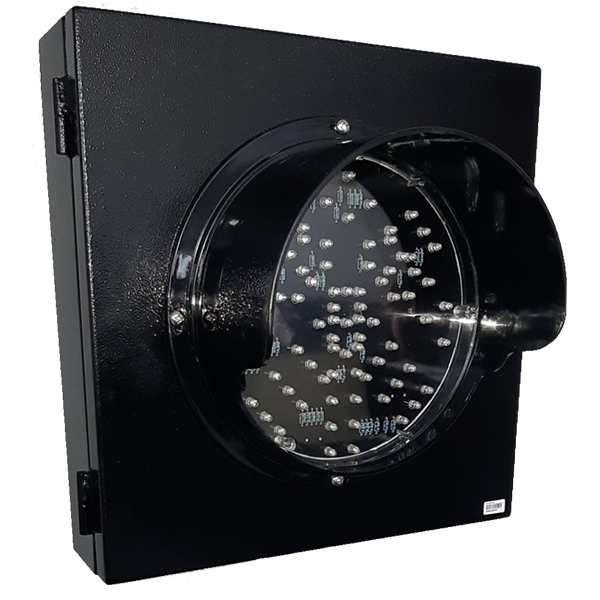 One-section 200 mm LED
traffic lights HLD-AC
One-section, LED traffic lights HLD-AC is intended for traffic control on roads, parking and car stations, passage to the protected area as well as for traffic control on lanes with reverse movement and etc. It is equipped with LED module consisting of 36 LEDs, green arrow and 45 LEDs of red cross with power not more than 3 W.
Application of LEDs in construction of traffic lights provides with high brightness of signals but despite this, with profitability in consumption of electricity and significant service life.
Housing is made of heat resistant and ecologically clean material. Traffic lights has horizontal or vertical placement.
Features of traffic lights HLD-AC:
wide operating voltage;
water and dust protection;
long service life: 100 000 hours;
energy saving, low energy consumption;
easy installation;
reduction of operating costs;
single optical output.
Traffic lights HLD-AC specially designed for compliance with international standards. Weight of 2.75 kg is characteristic for traffic lights but, despite this, it has high level of protection class IP65. This is a guarantee of its reliability and security against adverse influences of the environment: excessive dustiness of the air, precipitation or wide temperature range from -40°С up to +75°С.
Traffic lights mounting:
mount on the pipe by diameter from 30 to 60 mm,
on the flat surface with four screws.
Specifications:
| | |
| --- | --- |
| Lighting element | LED |
| Mounting type | Hinged |
| Switching modes | Manual/automatic |
| Type | Traffic lights |
| Placementня | Vertical, horizontal |
| Application | Reverse |
| Number of sections | 1 |
| Lens diameter | 200 |