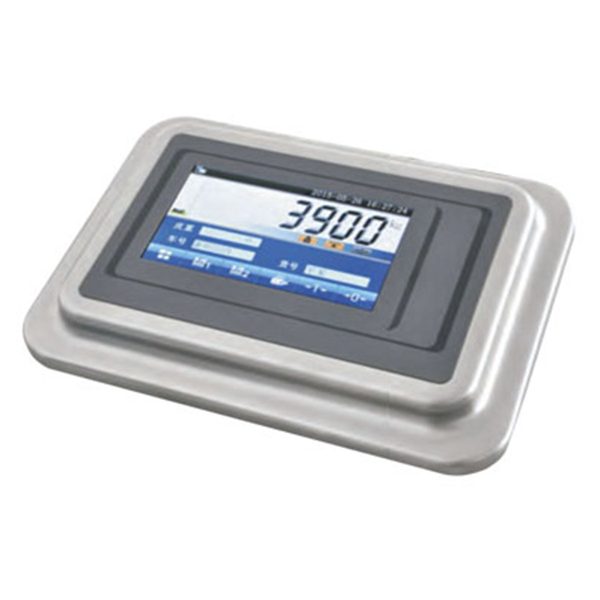 Application
D39-E is electronic weighing indicator for weighing system of vehicles. It is designed on technical platform of multi-task operating system. It is directed through touch-sensitive TFT- display. Indicator has function of direct digital image of measurable value or scale adjustment operation in graphic form for more clarity and effectiveness increase. In case of errors indicator ejects dialog boxes with helps for error prompt correction. Indicator interface permits to fix strictly and to record weighing data, it is perfect variant for application in systems of static weighing of trucks.
Functional capabilities:
7-inch colour ТFТ- display with definition 800*480.
High-performance, high-accurate touch-sensitive screen, no necessity to connect keyboard.
Support of protocols Ethernet RS232, RS485, parallel port for printer and keyboard port.
Separate function for digital adjustment of scale and mode of standard determination of trucks mass. Well-defined helps of system for arisen error correction.
Support of keyboard with Chinese and Russian layout (to simplify words input).
Some scale and demonstrative interface for reduction of operation and error insurance.
Support of column load cells with testing for bending (optional).
Multilevel control system (separately mode for user, maintenance staff, manufacturer).
Support of standard С.Е.К-protocol.
Load cells with external connectors are carefully isolated of electric circuit (for deletion of pickup and clutter), high-end protection of load cells from static electricity and over-voltage.
Built-in function of input of weighing data to printing.
Technical data:
| | |
| --- | --- |
| Digital load cell interface: | RS485, main cable 75 m with connection of 12 pcs of load cells |
| Baud rate: | 9600, 19200 bit/s |
| Power supply: | DC 12V/750mA |
| Digital load cells quantity: | 1~16 pcs |
| Communication protocol: | Keli С protocol, ordered С, Е protocol, ordered Е and К protocols |
| Display model: | 7 -inch 800*480 TFT colour display |
| Keyboard: | Resistive touch |
| Screen interface: | 20mA serial output of current loop DC, data transfer rate – 600, transmission distance <=100 m |
| Serial communications interface: | standard, RS232 and Rs485, data transfer rate 600-19200 optional |
| Printer interface: | With standard panel of printing interface suitable for ESPON LQ-300K + II, ESPON LQ-300K, ESPON LQ-680K, ESPON LQ-730K, ESPON LQ-1600K (+), KX-P1131, KX-P 1121, POS58IV, DS-300 or AB-300K |
| Network Ethernet interface: | 10/100bit/s |
| Data storage: | 1000 groups of tare, 4500 groups of new weighing data, 300 groups of last pending weighing |
| Indicator power supply: | AC 110-220V,50-60Hz |
| Dimension: | 318х218х100mm |
| Weight: | 2.7 kg |